E9015-B9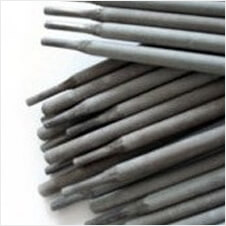 Class: E9015-B9
AWS: A5.5
Conforms to Certification:  AWS A5.5 | ASME SFA 5.5
Weld Process: Shielded Manual Metal Arc Electrodes
AWS Chemical Composition   Requirements
C = 0.08 – 0.12
Cr = 8.0 – 10.0
Mn = 0.40 – 0.75
Mo = 0.85 – 1.20
Si = 0.30 max
Ni = 0.2 – 0.4
P = 0.010 max
 Nb = 0.03 – 0.07
S = 0.010 max
 V = 0.15 – 0.25
 Cu = 0.25 max
 Al = 0.04 max
Description:
DuraMax E9015-B9 is a 9.0% Cr – 1.0%Mo, low hydrogen electrode modified with niobium and vanadium. It is designed to provide improved creep strength, toughness, fatigue life, and oxidation and corrosion resistance at elevated temperatures.
Typical Application & Usage:

For joining applications on higher chromium 9CrMoNb steel .
Intended for high integrity structural service at elevated temperatures.
DM9015-B9 offers improved toughness and better creep properties, which ultimately
allow for higher steam temperatures and the use of thinner wall piping.
Power plants, steam boilers.

 RE-DRY CONDITIONS: Re-Dry the electrode at 250°C for 1 hour before use.
Deposited All Weld Metal Properties % (Typical) As Welded
Tensile Strength
758 MPa
Yield Strength
690 MPa
Elongation in 2″
18%
Recommended Welding Parameters
Diameter
Amperage
3/32″
    70 – 110
1/8″
   80 – 140
5/32″
  100 – 180
 3/16″
  140 – 240
POLARITY: DCEP
DCEP: DC, Electrode Positive (reverse polarity) has the most weld penetration
WELDING POSITIONS: Flat, Horizontal, Overhead, Vertical-up and Vertical-down positions
USE LESS AMPS ON THIN METAL; MORE AMPS ON THICK METALS