E8018-B2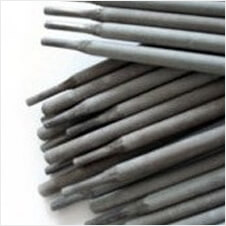 Class: E8018-B2
AWS: A5.5
Conforms to Certification:  AWS A5.5 | ASME SFA 5.5
Weld Process: Shielded Manual Metal Arc Electrodes
AWS Chemical Composition   Requirements
C = 0.05 – 0.12
Cr = 1.00 – 1.50
Mn = 0.90 max
Mo = 0.40 – 0.65
Si = 0.60 max
S = 0.030 max
P = 0.030 max
Description:
DuraMax E8018-B2 is a medium heavy coated, hydrogen controlled, iron powder type, all position radiographic quality electrode to weld 1.25% Cr – 0.50% Mo steel, having increased working efficiency. Electrode has properties of creep resistance up to 550°C.
Typical Application & Usage:

Suitable to weld creep resistant steels like Cr-Mo pipelines and plates used in oil refineries.
Power plants, steam boilers.
Equipment subject at high temperatures in synthetic chemical units.
Repairs of cast steel components.
Parts of automobiles / earth-moving machinery.

 RE-DRY CONDITIONS: Re-Dry the electrode at 250°C for 1 hour before use.
Deposited All Weld Metal Properties % (Typical) As Welded
Tensile Strength
550 – 680 MPa
Yield Strength
460 – 560 MPa
Elongation in 2″
20 – 28%
Recommended Welding Parameters
Diameter
Amperage
3/32″
    60 – 80
1/8″
  100 – 140
5/32″
  140 – 180
 3/16″
  190 – 240
POLARITY: DCEP
DCEP: DC, Electrode Positive (reverse polarity) has the most weld penetration
WELDING POSITIONS: Flat, Horizontal, Overhead, Vertical-up and Vertical-down positions
USE LESS AMPS ON THIN METAL; MORE AMPS ON THICK METALS