E8010-G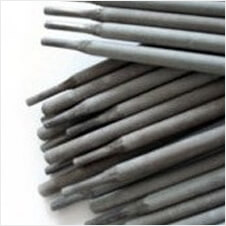 Class: E8010-G
AWS: A5.5
Conforms to Certification:  AWS A5.5 | ASME SFA 5.5
Weld Process: Shielded Manual Metal Arc Electrodes
AWS Chemical Composition   Requirements
C = 0.20 max
Ni = (0.50) *
Mn = (1.0) *
Cr = (0.30) *
Si = (0.80) *
Mo = (0.20) *
P = 0.030 max
V = (0.10) *
S = 0.030 max
* The undiluted weld metal shall have minimum of at least one of the element in parenthesis () as mentioned above.
Description:
DuraMax E8010-G is a High Cellulose coating electrode for high strength pipe welding, it is showing an increase in deposition rates with both welding techniques. Electrodes gives smooth and stable Arc with good penetration and very low spatter loss and very easily removable slag.
Manganese value maintain at high level for the obtaining of good Impact values at subzero temperature with high tensile strength.
Typical Application & Usage:

Welding of high strength pipeline steels.
Welding suitable for use in root, filling and capping runs in API 5LX60 to 5LX70 grade line pipe.

 RE-DRY CONDITIONS: Not Recommended
Deposited All Weld Metal Properties % (Typical) As Welded
Tensile Strength
550 MPa min
Yield Strength
460 MPa min
Elongation in 2″
19% min
CVN Impacts (J) @ -30°C
50 – 80  J
Recommended Welding Parameters
Diameter
Amperage
3/32″
    50 – 80
1/8″
   80 – 130
5/32″
  110 – 160
POLARITY: DCEP = DC, Electrode Positive (reverse polarity) has the most weld penetration.
USE LESS AMPS ON THIN METAL; MORE AMPS ON THICK METALS
WELDING POSITIONS: Flat, Horizontal, Overhead, Vertical-up and Vertical-down positions