ERNiCrMo-7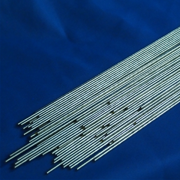 Class: ERNiCrMo-7
AWS: A5.14
Conforms to Certification: AWS A5.14 | ASME SFA A5.14
Weld Process: GTAW Welding Process
AWS Chemical Composition Requirements
C = 0.015 max
Cu = 0.50 max
Mn = 1.0 max
Ni = Remainder
Fe = 3.0 max
Co = 2.0 max
P = 0.04 max
Cr = 14.0 – 18.0
S = 0.03 max
Mo = 14.0 – 18.0
Si = 0.08 max
W = 0.50 max
Other = 0.50 max
Ti = 0.70 max
Please Call For More Information and Available Sizes
Application
ERNiCrMo-7 is used for welding nickel-chromium-molybdenum base materials to itself, steel and other nickel base alloys and for cladding steel with NI-CR-MO weld material
Deposited Chemical Composition % (Typical)
C = 0.01
Cr = 16.5
Ni = Balance
Fe = 2.20
Mo = 15.75
Deposited All Weld Metal Properties % (AW) 
Tensile Strength
113,000 psi
Elongation
29%
Deposited Charpy-V-Notch Impact Properties %
Not applicable
Recommended Welding Parameters for TIG, MIG, and SAW Welding of Nickel Alloys

Process
Diameter of Wire
Voltage (V)
Amperage (A)
Gas
Tig
.035 inches x 36
12 – 15
60 – 90
100% Argon
.045 inches x 36
13 – 16
80 – 110
100% Argon
1/16 inches x 36
14 – 18
90 – 130
100% Argon
3/32 inches x 36
15 – 20
120 – 175
100% Argon
1/8 inches x 36
15 – 20
150 – 220
100% Argon
Note:  Other shielding Gases may be used for Tig welding. Shielding gases are chosen taking Quality, cost, and Operability into consideration.
Note:  Both agglomerated and fused fluxes can be used for submerged arc welding.
Note: The chemical composition of the flux mainly affects the chemistry of the weld metal and consequently its corrosion resistance and mechanical properties.