ENiCrMo-3 DMNA112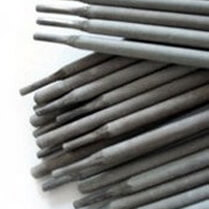 Class: ENiCrMo-3
AWS: A5.11
DURAMAX NA112
Conforms to Certification: AWS A5.11 | ASME SFA 5.11
Weld Process: Shielded Metal Arc Weld Process (SMAW)
AWS Chemical Composition Requirements
C = 0.10 max
Cu = 0.50 max
Mn = 1.0 max
Ni = 55.0 min
Fe = 7.0 max
Co = 0.12 max (when specified)
P = 0.03 max
Cr = 20.0 – 23.0
S = 0.02
Nb/Ta = 3.15 – 4.15
Si = 0.75 max
Mo = 8.00 – 10.0
Other = 0.50 max
Please contact us for more information and availability
Application
DURAMAX NA112 (ENiCrMo-3) has a nominal composition (wt.-%) of 60 Ni, 22 Cr, 9 Mo, 5 Fe, 3.5 Nb + Ta. Electrodes of this classification are used for welding nickel-chromium-molybdenum alloys to themselves and to steel, and for surfacing steel with nickel-chromium-molybdenum weld metal. These electrodes also can be used for welding nickel-base alloys to steel. The electrodes are used in applications where the temperature ranges from cryogenic to 1000°F. Typical specifications for the nickel-chromium-molybdenum base metals are ASTM B 443, B 444, and B 446, all of which
have UNS Number N06625.
DMNA112 has moderate strength and exceptional corrosion resistance. This versatile electrode is utilized for welding piping systems and reactor components in the power generation industry and for high temperature service in an array of other engineering applications, including petrochemical plants and furnace equipment. DMNA112 is excellent for overlaying on steel where exceptional corrosion resistance is required, such as chloride contaminated cooling water in heat exchangers, as well as offshore and marine environments.
Deposited Chemical Composition % (Typical)
C = 0.022
Mn = 0.58
Fe = 0.62
P = 0.019
S = 0.005
Si = 0.31
Cu = 0.059
Ni = 65.57
Co = 0.01
Cr = 20.87
 Nb + Ta = 3.34
 Mo = 8.35
Deposited All Weld Metal Properties % (AW) 
Tensile Strength
772 N/mm2
Yield Strength
Elongation
30.4%
Deposited Charpy-V-Notch Impact Properties %
Not applicable
Recommended Weld Parameters

Amperage (A)

Diameter of Wire
Voltage (V)
Flat
Vertical and Overhead
3/32 inches (2.4mm)
20 – 23
70 – 80
65 – 80
1/8 inches (3.2mm)
21 – 24
80 – 110
75 – 95
5/32 inches (4.0mm)
22 – 25
120 – 160
Not recommended
3/16 inches (4.8mm)
23 – 26
170 – 190
Not recommended