ERCu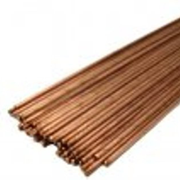 Class: ERCu
AWS: A5.7
Conforms to Certification: AWS – 5.7 | ASME SFA A5.7
Copper: Tig Welding process (GTAW)
AWS Chemical Composition Requirements
Cu + Ag = 98.0
Sn = 1.0 max
Mn = 0.50 max
Si = 0.50 max
P = 0.15 max
Al = 0.01 max
Pb = 0.02 max
Other = 0.50 max
Available Sizes
.035 x 36
.045 x 36
1/16 x 36
3/32 x 36
1/8 x 36
3/16 x 36
5/32 x 36
Application
This weld material is used to fabricate deoxidized copper and repair weld copper castings. Both the gas metal arc and gas tungsten arc weld processes can be used. Can also be used to weld galvanized steel and deoxidized copper to weld steel where high strength joints are not required.
Deposited Chemical Composition % (Typical)
Dependent on weld process
(Nominal) All Weld Metal Properties
Tensile Strength
8,000 psi
Yield Strength
29,000 psi
Elongation
29%
Reduction of Area
45%
Recommended Welding Parameters

Process
Diameter of Wire
Voltage (V)
Amperage (A)
Gas
Feed
TIG – GTAW
1/16 inches x 36
–0–
70-120
100% Helium or 100% Argon
40-55 CFH
3/32 inches x 36
–0–
120-160
100% Helium or 100% Argon
40-55 CFH
1/8 inches x 36
–0–
170-230
100% Helium or 100% Argon
40-55 CFH
Preheat / Interpass Recommendations
Preheating copper – base alloys is frequently unnecessary provided section thicknesses are not unusually heavy.
Preheat and Interpass temperatures will vary depending on section thickness, selected weld process and other variables.