E70C-6M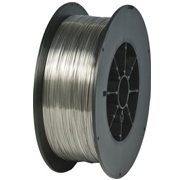 Class: E70C-6M
AWS: A5.18
Conforms to Certification: AWS A5.18
Weld Process: Mig Welding Process
Application
E70C-6M is designed for welding of 490MPa high tensile steel with only Ar/CO₂ gas mixtures. It is especially suitable for welding and has a high tolerance to primer. Typical applications include machineries, shipbuilding, offshore structures, bridges and general fabrications.
Characteristics of Usage
Wire is a metal type of flux cored wire for flat and horizontal position welding
Slag quality is almost the same as solid wire and multiple pass welding can be performed without removing slag.
20% higher productivity can be achieved when compared to solid wires and it features good penetration, high resistance to porosity, good wetting behavior as well as low hydrogen contents.
E70C-6M is intended for semi-automatic, automatic, single and multiple pass welding.
Chemical Composition of All-Weld Metal % (Typical)
C
Si
Mn
P
S
AWS

<

0.12

<

0.90

<

1.75

<

0.03

<

0.03
Typical Values (M21)
0.04
0.80
1.50
0.014
0.013
All Weld Metal Mechanical Properties (Typical)
YS (Mpa)
UTS (Mpa)
EL %
Charpy "V" Notch, Impact at (-30°C)
AWS
> 390
490 – 670

>

 22

>

 27
Typical Values (M21)
540
610
27
75
Approvals
Shielding Gas
CWB
M21
E49C-6M-H8
Sizes available and recommended currents (DC wire +)

Diameter
0.045
0.052
1/16
Current
(AMP)
Flat(PA/1G)
140 – 300
160 – 380
 180 – 400
H-Fillet(PB/2F)
160 – 300
180 – 360
 220 – 380