ER630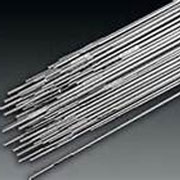 Class: ER630
AWS: A5.9
Conforms to Certification: AWS A5.9 | ASME SFA A5.9
Weld Process Used for Tig: (GTAW)
AWS Chemical Composition Requirements
C = 0.05 max
Cr = 16.0 – 16.75
Ni = 4.5 – 5.0
Mo = 0.75 max
Mn = 0.25 – 0.75
Si = 0.75 max
P = 0.03 max
S = 0.03 max
Cu = 3.25 – 4.00
Nb + Ta = 0.15 – 0.30
Available Sizes
.030 x 36
.035 x 36
.045 x 36
1/16 x 36
3/32 x 36
1/8 x 36
3/16 x 36
5/32 x 36
Application
ER630 classification is designed primarily for welding ASTM A564 type 630 and some other precipitation-hardening stainless steels. The composition is modified to prevent the formation of ferrite networks in the martensitic microstructure which has a great effect on mechanical properties. The weld metal may be used either as welded, welded and precipitation hardened, or welding and solution treated. Mechanical properties of this alloy are greatly influenced by the heat treatment.
Deposited Chemical Composition % (Typical)
C = 0.03
Mo = 0.20
P = 0.020
Cr = 16.51
Mn = 0.54
S = 0.018
Ni = 4.75
Si = 0.41
Cu = 3.62
Nb +Ta = 0.23
Mechanical Properties (R.T.) 
Yield Strength
150,000psi
Tensile Strength
135,000psi
Elongation
10%
Deposited All Weld Metal Properties
They are dependent on the utilization of a post weld heat treatment and a precipitation hardening based on temp, and time exposed to temperature.
Recommended Welding Parameters

GTAW "Tig Process"
Wire Diameter
Amps DCSP
Volts
Shielding Gas
.035
60-90
12-15
Argon 100%
.045
80-110
13-16
Argon 100%
1/16
90-130
14-16
Argon 100%
3/32
120-175
15-20
Argon 100%
Note: Parameters for tig welding are dependent upon plate thickness and welding position.
Other shielding Gases may be used for Tig welding. Shielding gases are chosen taking Quality, Cost, and Operability into consideration.