E71T-1C/1M, 9C/9M H8 SEISMIC PLUS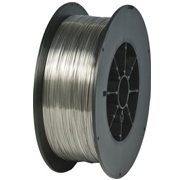 Class: E71T-1C/1M, 9C/9M H8
AWS: AWS A5.20
Conforms to Certification: AWS A5.20 | ASME SFA 5.20
Weld Process: Mig Welding Process
AWS Chemical Composition Requirements
C = 0.12 max
Cr = 0.20 max
Mn = 1.75 max
Ni = 0.50 max
Si = 0.90 max
Mo = 0.30 max
P = 0.03 max
V = 0.08 max
S = 0.03 max
Cu = 0.35 max
Available Sizes – Diameter X Spool Sizes
.035 x 33#
.052 x 33, 44#
.045 x 33, 44#
1/16 x 33#, 44#
.045 x 60#Coil
1/16 x 60#Coil
Drums available upon request
Application
DURAMAX E71T-1C/1M, 9C/9M H8 SEISMIC PLUS has a diffusible hydrogen content of less than 8.0ml per 100 grams which gives an "H8" designation in its' classification. This outstanding wire produces X-ray quality weld deposits using either 100% CO₂ or a 75% Ar/25% CO₂ mixture shielding gas.
DM71T-1C/1M H8 Seismic Plus has superb welder appeal because its' smooth stable arc yields virtually spatter free weld deposits and generates very little fumes. Out-of-position welding is made simple because of the fast freezing, but easily removable slag. Welders spend more time welding and less time cleaning up!
DM71T-1C/1M H8 Seismic Plus operates over a wide range of current settings allowing for a greater variety of applications using just one wire. An excellent choice for single or multiple pass laps, fillet and butt welds on many grades of carbon steel. Typically used in shipbuilding, railcar fabrication, pressure vessels, heavy gauge sheet metal, earth moving equipment and many ASTM specifications.
Deposited Charpy-V-Notch Impact Properties %
42.8 ft. lbs. (at 0ºF)
Deposited All Weld Metal Properties % (As Welded)
Tensile Strength
86,100 psi
Yield Strength
73,400 psi
Elongation
26.4%

Recommended Welding Parameters DC+

Diameter of Wire
Voltage (V)
Amperage (A)
Shielding Gas
.035 inches
24 – 25
200
100% Co2 or 75% Ar+25% Co2
.045 inches
24 – 26
200
100% Co2 or 75% Ar+25% Co2
.052 inches
24 – 26
210
100% Co2 or 75% Ar+25% Co2
1/16 inches
24 – 26
250
100% Co2 or 75% Ar+25% Co2
AWS Requirements
Radiographic Test
Fillet Weld Test: ASME II Part C SFA 5.20
Meets Requirements
Meets Requirements