E7024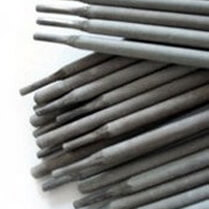 Class: E7024
AWS: A5.1
Conforms to Certification:  AWS A5.1 | ASME SFA 5.1
Weld Process: Shielded Manual Metal Arc Electrodes
AWS Chemical Composition   Requirements
C = 0.15 max
Ni = 0.30 max
Mn = 1.25 max
Cr = 0.20 max
Si = 0.90 max
Mo = 0.30 max
P = 0.035 max
V = 0.08 max
S = 0.035 max
Note: Combined elements of Mn + Ni + Cr + Mo + V shall not exceed a total combined limits of 1.50 max.
Description:
DURAMAX E7024 electrode coverings contain large amounts of iron powder in combination with ingredients similar to those used in E6013 electrodes. The coverings on DM7024 are very think and usually amount to about 50% of the weight of the electrode, resulting in higher deposition efficiency. The DM7024 electrodes are well suited for making fillet welds in the flat or horizontal position. Weld face is slightly convex to flat, with a very smooth surface and a very fine ripple. These electrodes are characterized by a smooth, quiet arc, very low spatter, and low arc penetration. They can be used with high travel speeds. Electrodes of this classification can be operated on AC, DCEP or DCEN.
DM7024 is an excellent choice for earthmoving equipment, railroad cars, mining machinery, structurals, plate fabrication, shipbuilding, and mobile trailers.
RE-DRY CONDITIONS: Re-Dry the electrode at 250°C for one hour before use.
Deposited All Weld Metal Properties % (Typical) As Welded
Tensile Strength
490 MPa min
Yield Strength
400 MPa min
Elongation in 2″
17% min
CVN Impacts (J) @ -30°C
 ≥ 27 J
Recommended Welding Parameters
Diameter
Amperage
3/32″
  100 – 145
1/8″
  140 – 190
5/32″
  180 – 250
3/16″
  230 – 305
POLARITY: DCEP, DCEN or AC
DCEP: DC, Electrode Positive (reverse polarity) has the most weld penetration
DCEN: DC, Electrode Negative (straight polarity) has the least weld penetration
AC: medium weld penetration (can be more spatter)
WELDING POSITIONS: Flat, Horizontal, Overhead, Vertical-up and Vertical-down positions
USE LESS AMPS ON THIN METAL; MORE AMPS ON THICK METALS