E7014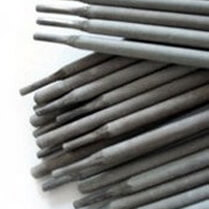 Class: E7014
AWS: A5.1
Conforms to Certification:  AWS A5.1 | ASME SFA 5.1
Weld Process: Shielded Manual Metal Arc Electrodes
AWS Chemical Composition   Requirements
C = 0.10 max
Ni = 0.30 max
Mn = 0.35 – 0.60
Cr = 0.20 max
Si = 0.30 max
Mo = 0.30 max
P = 0.030 max
V = 0.08 max
S = 0.030 max
Description:
DuraMax E7014 is a medium heavy coated, iron powder, rutile type electrodes designed for high efficiency welding jobs. Deposition efficiency exceeds 115% and weld are of radiographic quality.
Typical Application & Usage:

Suitable for thicker sections machinery components.
Heavy mild steel structurals
Boilers and pressure vessels.
Bridges, wagons, tanks and vessels.
Ships, girders, barges etc.

 RE-DRY CONDITIONS: Re-Dry the electrode at 120°C for one hour, for best results.
Deposited All Weld Metal Properties % (Typical) As Welded
Tensile Strength
490 MPa min
Yield Strength
400 MPa min
Elongation in 2″
17% min
CVN Impacts (J) @ 0°C
80 – 100  J
Recommended Welding Parameters
Diameter
Amperage
3/32″
    70 – 110
1/8″
  100 – 150
5/32″
  160 – 200
POLARITY: DCEN or AC
DCEN: DC, Electrode Negative (straight polarity) has the least weld penetration
AC: medium weld penetration (can be more spatter)
WELDING POSITIONS: Flat, Horizontal, Overhead, Vertical-up and Vertical-down positions
USE LESS AMPS ON THIN METAL; MORE AMPS ON THICK METALS