E7010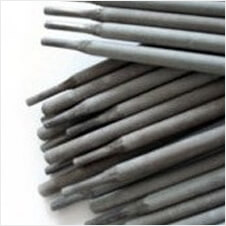 Class: E7010
AWS: A5.1
Conforms to Certification:  AWS A5.1 | ASME SFA 5.1
Weld Process: Shielded Manual Metal Arc Electrodes
AWS Chemical Composition   Requirements
C = 0.10 max
Ni = 0.30 max
Mn = 0.35 – 0.60
Cr = 0.20 max
Si = 0.30 max
Mo = 0.30 max
P = 0.030 max
V = 0.08 max
S = 0.030 max
Description:
DuraMax E7010 is an all-position cellulosic electrode that is especially suited for welding high strength pipe. It produces the consistent, deep penetration required to maintain a proper keyhole when vertical-down welding in open root pipe joints.
Typical Application & Usage:

Light slag for minimal arc interference
Deep penetration
Clean, visible weld puddle
Superior puddle control
Recommended for welding API grades X46, X52 and X56 pipe.
Cross Country pipe lines.
In-plant pipes.
Deposited All Weld Metal Properties % (Typical) As Welded
Tensile Strength
540 – 580 MPa
Yield Strength
440 – 510 MPa
Elongation in 2″
22 – 30%
CVN Impacts (J) @ -29°C
35 – 43 J
Recommended Welding Parameters
Diameter
Amperage
3/32″
    50 – 90
1/8″
    75 – 130
5/32″
   90 – 175
3/16″
  140 – 225
POLARITY: DCEP
DCEP: DC, Electrode Positive (reverse polarity) has the most weld penetration
WELDING POSITIONS: Flat, Horizontal, Overhead, Vertical-up and Vertical-down positions
USE LESS AMPS ON THIN METAL; MORE AMPS ON THICK METALS