E6013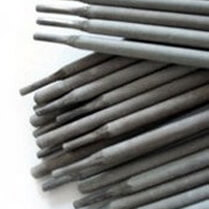 Class: E6013
AWS: A5.1
Conforms to Certification:  AWS A5.1 | ASME SFA 5.1
Weld Process: Shielded Manual Metal Arc Electrodes
AWS Chemical Composition   Requirements
C = 0.10 max
Ni = 0.30 max
Mn = 0.35 – 0.60
Cr = 0.20 max
Si = 0.30 max
Mo = 0.30 max
P = 0.030 max
V = 0.08 max
S = 0.030 max
Description:
DuraMax DM6013 is a light medium coated rutile type general purpose electrode which is characterized by smooth and stable arc, low spatter, easy slag detachability,
fine rippled bead appearance, weld deposit possesses good chemical and mechanical properties.
Typical Application & Usage:

 Suitable for tank & vessels
General fabrication.
Vehicles.
Railway wagons and machinery.
Ship building construction, light structural steel works
Storage tanks etc.

RE-DRY CONDITIONS: Re-Dry the electrode at 120°C for 30-60 minutes, for best results.
Deposited All Weld Metal Properties % (Typical) As Welded
Tensile Strength
450 – 540 MPa
Yield Strength
350 – 450 MPa
Elongation in 2″
22 – 30%
CVN Impacts (J) @ 0°C
50 – 80 J
Recommended Welding Parameters
Diameter
Amperage
3/32″
    50 – 80
1/8″
    80 – 120
5/32″
  130 – 170
POLARITY: DCEN or AC
DCEN: DC, Electrode Negative (straight polarity) has the least weld penetration
AC: medium weld penetration (can be more spatter)
WELDING POSITIONS: Flat, Horizontal, Overhead, Vertical-up and Vertical-down positions
USE LESS AMPS ON THIN METAL; MORE AMPS ON THICK METALS