E7016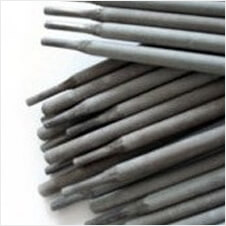 Class: E7016
AWS: A5.1
Conforms to Certification:  AWS A5.1 | ASME SFA 5.1
Weld Process: Shielded Manual Metal Arc Electrodes
AWS Chemical Composition   Requirements
C = 0.15 max
Ni = 0.30 max
Mn = 1.60 max
Cr = 0.20 max
Si = 0.75 max
Mo = 0.30 max
P = 0.035 max
V = 0.08 max
S = 0.035 max
Note: Combined elements of Mn + Ni + Cr + Mo + V shall not exceed a total combined limits of 1.75 max.
Description:
DURAMAX E7016 is a hydrogen controlled basic coated electrode for welding medium and high tensile structures, grey cast iron components, low and medium carbon steels. The deposits are of radiographic quality coupled with excellent mechanical properties. DM7016 is suitable for overlaying buffer layer before hardfacing, joining mild steel to carbon steel. Uses include blast furnace, drilling rigs and flat forms, industrial & mining machinery, bridges, boiler fabrication, machinery for earth moving and road equipment.
RE-DRY CONDITIONS: Re-Dry the electrode at 250°C for one hour before use.
Deposited All Weld Metal Properties % (Typical) As Welded
Tensile Strength
490 MPa min
Yield Strength
400 MPa min
Elongation in 2″
22% min
CVN Impacts (J) @ -30°C
50 – 100 J
Recommended Welding Parameters
Diameter
Amperage
3/32″
    65 – 110
1/8″
  100 – 150
5/32″
  140 – 200
3/16″
  180 – 255
Current (AC 70V or DC+)